Building homes. Building hope.
Building Saint Louis.
Habitat for Humanity Saint Louis is part of a global, nonprofit housing organization that was founded on the conviction that every man, woman and child should have a simple, decent place to live. We are dedicated to eliminating substandard housing locally and work toward that goal with a comprehensive program in which hard-working St. Louis families invest their time into actually building, buying and owning a home. Our volunteers are also an integral part of our program. Each year, around 3,000 volunteers give their time and talent on the build site, in the ReStore, on a committee or in our office. Join our team as we work to ensure every man, woman and child in our community has a decent place to live.</</
The Keystone Community Partnership
Working together to build a St. Louis where everyone has a decent place to live.
The Keystone Community Partnership was formed as a way to recognize those individuals, corporations, foundations, and community organizations who generously support Habitat Saint Louis with annual financial or in-kind contributions. Just as a keystone at the apex of an arch allows the arch to be self-supporting, Keystone members provide the vital support needed for us to continue building a St. Louis where everyone has a decent place to live.
The chart below highlights both the engagement and marketing benefits that come with a Keystone Partnership investment in Habitat Saint Louis. Volunteer opportunities can be spread across multiple build dates, sites, and events in line with the interests of the donor. Here at Habitat Saint Louis we pride ourselves on providing an exemplary engagement experience, so if the benefits below do not quite meet your needs, we would be happy to work with you to craft a truly unique Habitat experience.
Questions? Please contact the Resource Development Department at development@habitatstl.org or (314)371-0400 to learn more.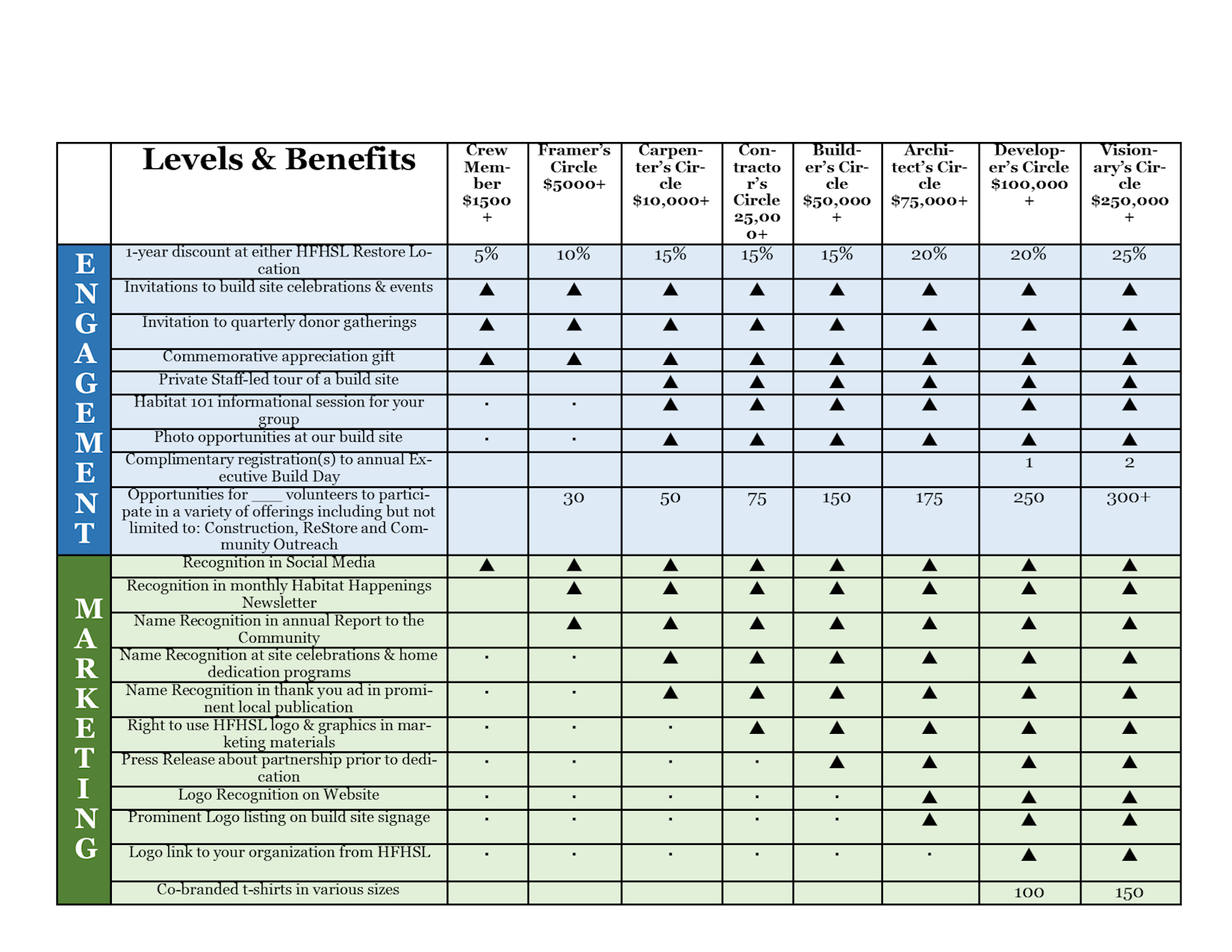 Connect
3830 South Grand Blvd.
St. Louis, MO 63118
(314)371-0400